CLOSED, INTERMITTENT & EXTERNAL CATHETERS
Here for you, when you need us!


Closed System Catheters
Closed system catheters combine the latest advancements with trusted features to help reduce urinary tract infections while allowing the flexibility and control that you need to manage your continence with confidence. Closed system catheters offer a privacy and convenience option that most straight catheters do not. Closed system catheters allow secure, discreet catheterization whether in a restroom, private room or even in your vehicle.
Closed system intermittent catheters feature a collection bag for secure urine collection until you are ready to dispose of it.
Ready to use
Protective tip can reduce introduction of bacteria into the urinary system. Bacteria pushed into the urethra can lead to urinary tract infections (UTIs)
Water based lubrication limits friction during insertion while Uutra smooth eyelets help provide maximum comfort during insertion and removal
Protective hygiene cap covers introducer tip and helps prevent leakage after use. Simply tear the collections bag at the tear strip to empty the bag and dispose
Contact us for more information at (877) 505-4207
Intermittent Catheters
Intermittent catheters are thin, flexible, hollow tubes that are inserted through the urethra into the bladder and allow the urine to drain. Advances in the design have improved dramatically over the last 10 years reducing the risk of UTIs and reducing pain and discomfort in the catheterization process.
Intermittent catheters are used for several indications, such as short term urinary drainage from the bladder for patients with urinary incontinence, urinary retention, or patients with a bladder obstruction. Intermittent catheter types include: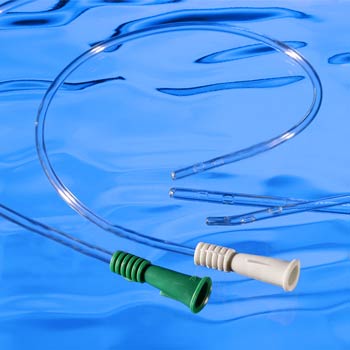 Straight – a flexible catheter with a straight, rounded tip which has an opening on the side of the catheter tube for urine drainage
Coude – is a flexible catheter with a bend or elbow curvature at the tip to facilitate navigation of the urethra for those that have a urethral blockage or narrowing Coude tip catheters are often used when a straight is unsuitable
Hydrophilic – have a layer of pre-lubricated coating that is bound to the catheter surface. The pre-lubricated coating creates an excellent gliding property that ensures easier, more comfortable insertion
External Catheters
External catheters, also referred to as condom catheters or Texas catheters, are catheters used by men as an alternative to an indwelling catheter. External catheters affix over the penis and direct urine into a collection bag. External catheters can be less invasive than an indwelling catheter and are available in variations and sizes.
Choosing the right external catheter is critical in maintaining good health. Correct sizing is important and ensures comfort and reliability of the catheter. It is always good to use the smaller size available. An external catheter will stretch to provide a good fit but a loose catheter will not adhere properly.
External catheters feature a flexible and soft sheath which may have an adhesive. If an adhesive is not already present, a single sided adhesive foam strip will be provided to secure the external catheter to the shaft.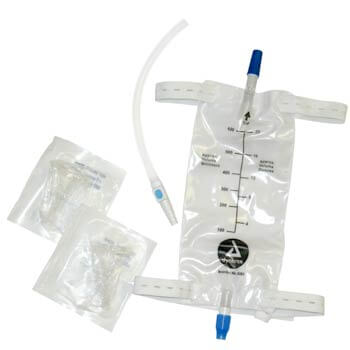 External catheters, also referred to as condom catheters or Texas catheters
External catheters affix over the penis and direct urine into a collection bag, thus can be less invasive than an indwelling catheter and are available in several variations
Choosing the right external catheter is critical in maintaining good health